Martha Josey and her Josey Ranch Team have a great website with many resources available.  There is information there suited for the beginner barrel racer just learning to barrel race, to the advanced racer that needs to freshen up and be reminded that good horsemanship is where it all starts.
In Martha's Winning Ways section for the website you will find all kinds of tips including horse care, training and developing that winning attitude.  Seeing that it is the beginning of a new barrel racing season in many parts I thought I would focus on one section she has called The Barrel Racing Checklist
This is a great review for all levels of barrel racers.  Its a good list to go through and assess where you are at in your own program.  Kind of like a "spring tuneup" to see if you have any issues you are missing that could be improved on before you get too far into the season.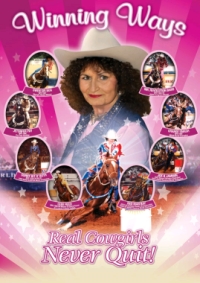 I encourage you to go to her site (BarrelRacers.com, then Winning Ways) to read more, but here is a quick rundown on some of the things we need to be in tune to with our horses:
Check for soreness and injury.  Know your horse, know what he SHOULD feel like
Check his ears for soreness, check his teeth for problems
What is your horses overall appearance? Step back and think what a stranger would think.  Is she underweight, dull hair coat, have you de-wormed lately?
Assess your feeding program? Is your horse getting everything he/she needs?  Are there changes you could make?
Look at his/her feet? Are they up to date? Is your farrier doing a good job.  The condition of your horses feet will directly affect its ability to perform to its best.
Check your equipment.  Is it fitting your horse correctly? Properly adjusted? In good condition? Is it safe?  Check your tie-down, curb strap, rein length, headstall – every piece.
Is your tack clean?  Dirty tack can make a horse sore and uncomfortable
How is your saddle fitting?
As a rider – are you doing your part? Are you fit and able to ride to the best of your ability?  How is your mental game?  Are you mentally prepared to help your horse?
Consider videoing your run to see if you are causing your horse problems – perhaps sending an incorrect message.
When you are trailering, is your horse comfortable? Too hot? Too cold? How's your driving…are you giving a smooth ride so your horse doesn't arrive more tired than when he left?
Are you remembering to properly warm up and cool down your horse before and after a workout or run?
Is your practice productive/constructive.  Are you over practicing or not enough?
Is your horse in adequate condition for what you are asking of him/her?
Martha Josey goes into much more detail than I have here and has so many other great tips on her Winning Ways section of her website.  I encourage you to check them out.  She is very positive and offers  great advice that stems from decades of barrel racing experience.