11 Time World Champion Barrel Racers Charmayne James has a lot to offer the barrel racing world.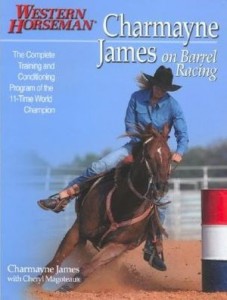 I came across this video on Youtube that was taken at one of Charmayne's Barrel Racing clinics. If you have watched her video and read her book like I have, you will appreciate this visual.
Part of Charmayne's teaching uses 5 axis points around the barrel. She also really emphasizes looking over the outside ear on a horse going into the turn to locate those points while shifting your weight to the outside. The third thing she wants to see is a bent elbow through the turn as you lift and position your horse for the turn.
This is a long video, but it won't cost you a time to catch a glimpse of this $600 clinic.

For more on Charmayne James and her clinics visit her website: www.CharmayneJames11.com She also has some other really great articles on there that have been featured in Barrel Horse News.