A valuable resource available to barrel racers includes the website of World Champion Barrel Racer Charmayne James.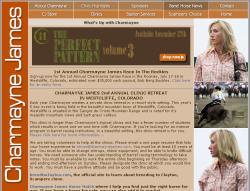 Each month Charmayne contributes an article to the Barrel Horse News magazine. If you aren't a subscriber you can still access this information. On Charmayne's website she has a link called Barrel Horse News where you can find the articles organized for reading right on her website.
Past topics include problem solving for barrel racing, safe hauling, proper bitting for barrel horses, the importance of healthy barrel horses (including shoeing, dental work and chiropractic work). Important lessons from her clinics, horsemanship, balance, nutrition and fitness and how they apply to barrel racing.
I encourage you to check out these articles whether you subscribe to Barrel Horse News or not. There is a large database of past articles which make for a great reminder even if you have read them already.
11 time World Champion Charmayne James sharing her experience and sound advice is something barrel racers can't afford to miss out on.
Here is a cool video with Charmayne talking about her Bridleless run with Scamper. It is a great example of what a great team they were right from the very beginning when Charmayne was only 16 years old.